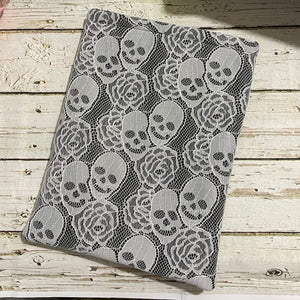 Book Sleeve featured in the October 2023 box.

XL Booksleeve Measures 8.5"x11" is padded, and is perfect for those large hardbacks.
Standard Booksleeve Measures 7.5"x10" is padded, and is perfect for paperbacks, ARCs and smaller hardbacks.
Mini Booksleeve measures 6"x 8" is padded, and is perfect for cozy mystery paperbacks or kindle paperwhite, kindle voyage, nook, kobo touch and kobo mini.
XL Book Jacket fits larger hardbacks
Standard Book Jacket fits smaller hardbacks and standard paperbacks.
Book Jacket sleeves fit over the book just like a dust jacket and includes an elastic ribbon that can be used as a bookmark or to keep the book closed.
Made with a lace and cotton fabric exterior and cotton lining with batting in between for padding.